DVD Reauthor v1.4 software description
I would like to make an introduction before describing the program.
Until I tried the DVD Reauthor myself I had doubts whether total DVD recompilation is possible. I remember forum discussions of an attempt to create some similar program – Rauthorist. It was supposed that the Rauthorist recreates the structure of a disk completely and creates a script for Scenarist. I was a beta tester of the Reauthorist. The program used a heap of external utilities. The disk was deconstructed into the elements it consists of (video + audio + subtitles). As a result, there were a lot of mistakes and the program did not work.
So, when I heard about the software, which can do everything Reauthorist was supposed to, without using additional utilities, I made a request to try it. I would like to mention one thing – the program really creates a complete script file ready to be imported into Scenarist, but it can not modify all non-standard features, which DVD authoring programs have. So, 100% ready project that can be immediately imported into Scenarist and compiled into a disk can be made of a disk originally created in Scenarist. Otherwise a user should be ready to correct the created project manually. For example, there is a disk, which has several Titles in one VTS with different audio streams. Surely it was rejected by strict Scenarist and was not compiled (I find it right – you should follow the standards).
User Interface and Program Functions
After the program is launched it looks like that: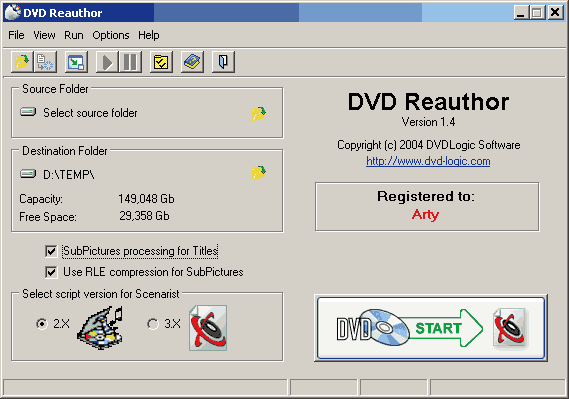 For experiments I took an original disk "Last Samurai" DVD9, copied via DVDDecrypter in ISO format and attached as a virtual device (I used Fantom CD, but there are many similar programs). The program also can work with files on HDD copied via DVDDecrypter in "File Mode". So, we choose the source and set path to the folder with the file VIDEO_TS.IFO.
When the analysis is over we see the following – text string about VIDEO_TS.IFO file processing and some information messages.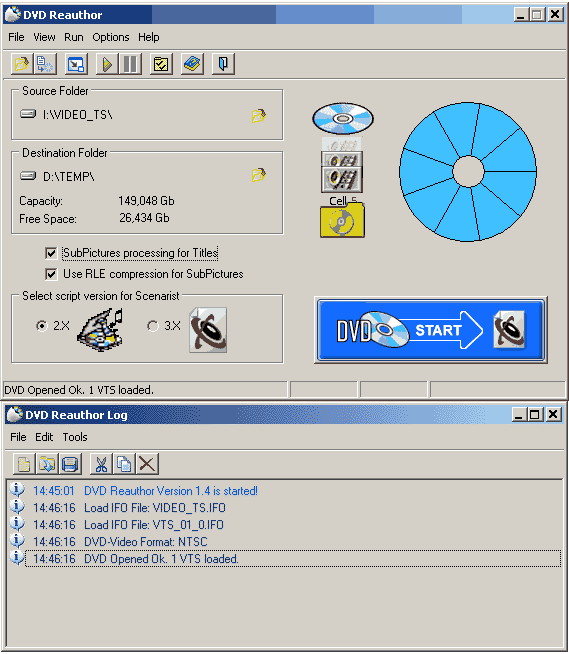 Let's look at the options of the program:
- get time from file – video duration is extracted by scanning the video file as Scenarist does it. This method is not quick but it is correct.
- get time from IFO – video duration is extracted from IFO-file via Cell ID or Vob ID duration. This method is quick but not always correct because not all DVD authoring software write correct information about duration into IFO files.
- get start time from navigation pack – if it is not checked synchronization of video and audio is calculated as a difference between video start time and audio start time. If it is checked the calculation is the difference between start navigation pack and audio start time in it. The author of the program recommends using the second method.
- Processing for Titles – subtitles processing.
- Use RLE compression – use the compression for subtitle pictures.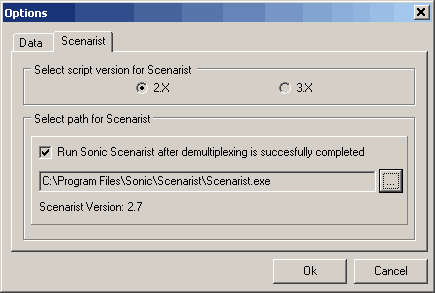 On this page you'll find options for Scenarist software – version and automatic script loading after processing completed.All the options are set let's push the start button. If the folder, I'm going to locate the file to, is not empty the program suggests emptying it.
I agree and the process starts: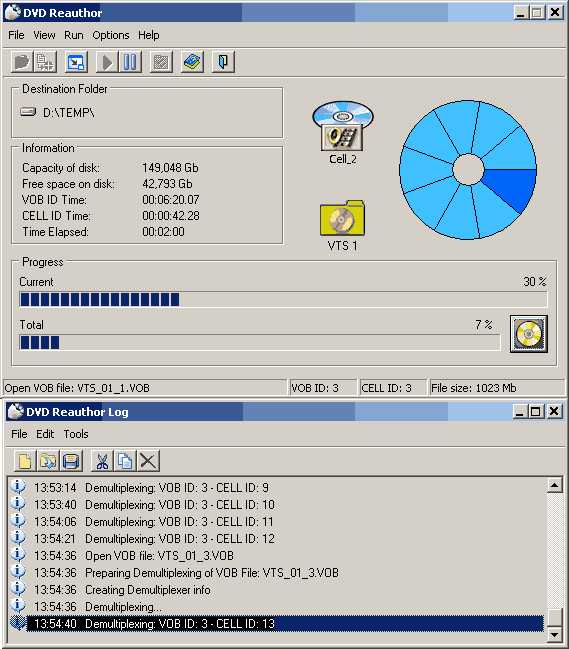 Some interface features are similar to DVDDecrypter, similar elements and log window. After the process was completed (I was waiting for 25 minutes) the Scenarist has started and script has been loaded.
Navigation commands are loading, etc.
Surely, I was interested in capacity for work of all this. I went to output window and pushed compilation button.
To my great surprise I received completely working and correct disk – as original. First example was successful. But next time I discovered that not all disks decompiled correctly, but I think this is the problem of non-standard features and Scenarist strictness in scenario checking. That's why sometimes correction is necessary, often in disks created in Maestro software. The results of the experiment are the following: simple disks are compiled and decompiled easily, as well as disks originally created in Scenarist. There are some difficulties with disks created in Maestro… For example, one VTS has few files with different attributes of audio tracks; this is not allowed in Scenarist (I think that's right). I decompile 15 disks using DVD Reauthor, 8 of them were immediately recompiled successfully, 4 of them needed some correction, and only 3 needed total correction. As for me, the program is handy, but there are some such freeware utilities ... Authors prepare release of a program that allows decompiling DVD by one button pushing. There is another remark regarding file names structure: it is very difficult, it'd be useful if the file name can correspond to position in Scenarist, for example, vts_01_titles_video_01.m2v but not a 1020011003.m2v. Everything mentioned is about the current version only (1.4). The authors say next release of the DVD Reauthor will be completely different from current version.
December 23, 2004, Arty